Game Play Summary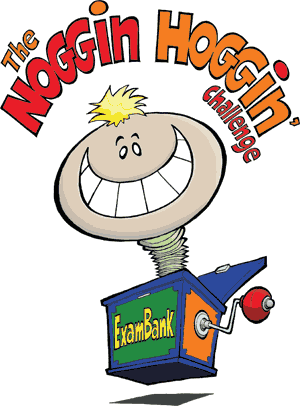 If you are a student in Canada attending a Kindergarten to Grade 12 school in any province other than Québec, you can play.
Register yourself as a competitor. It is all free!
Check the start date of the next challenge from our schedule. Each challenge runs over a 6 day period.
On the first day of the challenge (Monday), login to receive your first puzzle to solve. Answer the puzzle by submitting your answer on the Noggin Hoggin Challenge Website before the puzzle closes at the end of the day.
Log in the next day. At this point, you will see how you did on the first puzzle. (You should also have received an email.) No matter if you answer was correct or not, proceed and complete the next puzzle.
If you fail to complete a puzzle or answer correctly, a 10 minute penalty towards the final, time-sensitive puzzle on Day 6 will be incurred and automatically applied.
Feel free to work with your class, friends, or family to complete the puzzles. However, each student must submit their own answer to compete in the challenge and be eligible for prizes.
The challenge continues for 6 days in the standard format of one puzzle being released each day and students having until the end of the day to submit their answers.
On the 6th day of play, a final question is revealed to all registered competitors. It is time to compete in the final challenge for one of the prizes.
Game play on the final day will begin at:

| Start Time | Time Zone |
| --- | --- |
| 11 a.m. | Pacific Time |
| 12 p.m. | Mountain Time |
| 1 p.m. | Central Time |
| 2 p.m. | Eastern Time |
| 3 p.m. | Atlantic Time |
| 3:30 p.m. | Newfoundland Time |

The final puzzle is time sensitive. Competitors are ranked by the order in which they submit correct answers, so it really is a race to the finish! You may change your answer as many times as you'd like, but a new time will be recorded. The last answer entered, if incorrect, will lead to elimination. All time penalties accumulated for incorrect or incomplete answers over the 5 previous days will be totalled, and the time of each contestant's final submission will be adjusted accordingly. There will be grand prizes awarded to the top three competitors, as well as numerous secondary prizes.
The final unofficial ranking will be given after game play closes on the end of the 6th day. Winners will be notified by email.
All winners will be given a prize claim form that will need to be signed by a parent or guardian as well as their school administrator.
Winners must return their prize claim form within 14 days of the completion of the challenge to receive their prize. After these 14 days, a challenge's rankings will become official.
Active questions are only viewable to registered players, but as each question expires, the puzzle and its correct solution will become available to everyone.